Parenthood Part 13 – Making it Epic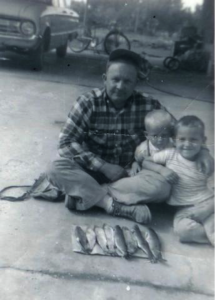 Submitted by admin on Mon, 07/02/2012 – 21:39
I had a little injury on the trails on Sunday and it led me to this memory of my dad and a little parenting tool called the Purple Heart for making it epic.
I got my fill of classic country music growing up from the likes of Johnny Cash and Marty Robins. There was this song in that style by Hank Thompson called "No Help Wanted" that came out in 1953, the year after my parents were married. The chorus went, "Do you need any help? Do you need any help? I can handle this job all by myself." Well, this sort of stuck in my head, and when I was about four we were hiking in the Uinta Mountains near Ruth Lake. We crossed a boulder field and as I pulled myself onto a big one, someone asked me, "Do you need any help?" To which I sang out, "I can handle this job all by myself." They all erupted, thinking it was so cute. I didn't get why they were laughing, me taking myself so seriously and all. I simply wanted to make a point, "I don't need any help, thank you very much. So I guess this shows that I was probably born with this independent streak, and have seen both sides to that asset/curse coin.
In spite of wanting to do it myself though, here's the rub. An hour or so later, I tripped on the trail and scraped my palms and knee. Did I then sing out that I didn't need any help? Noooo. I was sniffling and wounded, and I needed my daddy, thank you very much.
We stopped, and he pulled out a blue ball point pen from his pocket. Now, why he would be hiking the backcountry with a Bic is something I have never questioned until, well, this very moment. Maybe it was luck or maybe he had planned ahead. This wasn't his first parenting rodeo, after all. Regardless, he did something that always struck me as a wonderful bit of fatherhood. He crouched down, asked to see the damage and held my chubby little palm in his scratchy one. Just thinking of those calloused hands and his plain gold wedding band chokes me up now.
Well, he used that pen to draw a little blue heart on the back of my knuckle. As we looked at this little temporary tattoo he explained that when soldiers are wounded in action, they are awarded the Purple Heart, a high honor in service to our country. And so now, to acknowledge my injury and for exceptional bravery, I was bestowed a purple heart of my own.
It just doesn't take much to delight a kid, to turn a little blood into a badge of honor. It makes me reflect on what it takes to remain that little girl, so easy to make happy and so ready for adventure. And what does it take to bring a sense of accomplishment and camaraderie to a family? Sometimes not more than a little ink.