On Growing Up in Roy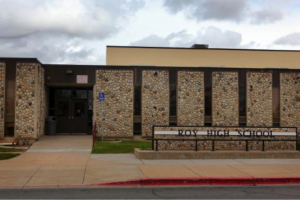 Submitted by admin on Sat, 05/18/2013 – 10:32
To Roy, my alma matter, rising above the rest…um, I have never exactly felt that way, that we from Roy were any better than anyone else. I've noticed that if you ask Roy grads where we went, we say "Good old Roy High," with an oh-shucks gesture. It's self-deprecating, not exactly an apology but not brimming with hometown pride either. Let's face it, Roy is not now nor will ever be considered the bedrock of Weber County. I doubt anyone will ever speak in envious tones, "Oh, Roy is where the up and comers are moving."
I wrote this after running an errand in my old Roy neighborhood. I found it, to quote the Talking Heads "Same as it ever was. Same as it ever was." Somehow, though, this time it made me smile. No condescension, just affection as I passed brick split levels with the sprinklers watering patches of green, marigolds and petunias. These gardens will never make Sunset magazine. I can't think of any neighborhoods in Roy new enough to be called trendy, nothing grand enough to be called stately. That said, when we grew up there was no abject poverty either. The homes were tidy, the carports in decent repair. If I had to pinpoint the surprising strength of our high school, it was this.
We were all middle class. In socioeconomic terms, probably lower middle class, actually. Our folks were school teachers, police officers, and small business owners. They commuted to Hill Air Force base, or were stay-at-home moms. We had some single parents, and we were the first generation of latchkey kids. Everyone thought generation X would be lost, but we've become a surprisingly self-reliant, hardy bunch. We we learned to fend for ourselves while Mom was still at work. We are thriving now because we worked after school at Convergys or Burger Bar. We earned our own cash for school clothes and put gas in our beater cars. We then worked our way through College. Few of our parents had much extra, I mean, how many of us vacationed in Hawaii every year? We were more likely to camp in the Uintas or drive straight through to Disneyland to lodge in the cheaper motels. None of my friends had everything they wanted, and as adults we have no sense of entitlement. It drives us nuts when people do.
Thing is, our parents were good people who volunteered as scout leaders and didn't put up with a lot of crap from us. They let us ride our bikes until dark without monitoring our GPS coordinates. We might have been latchkey kids, but we also held the last bastions of childhood freedom. The term helicopter parents hadn't been invented yet.
Roy High had plenty of cliques–I'm not especially proud of my part in this–but groups were not divided by the haves and have nots. A Pretty in Pink caste system didn't exist in "Good 'ol Roy High." For that I am, and will always be grateful. I think it helps us see people as people. I'm not intimidated by money or exceptional intellect. I'm not gifted, but I have friends from Roy who are. Some are gay, some are straight. Some kept the faith, others lost it but found God. Some are divorced, others have a bunch of kids. We are making our livings as computer programmers, social workers and yes, commuting to base.
Most of us have more education than our parents, and we are trying to do right by them. We volunteer and hope everyday to do as good a job with our kids as they did with us. Time will tell if we live up to that, but we're doing our best.
Today, a surprising number of my dearest friends came from Roy. Steven King said (I may be paraphrasing), "You'll never have friends like the ones when you were 12." I can count so many—not just Facebook friends, but people I still see and love—who I knew then. You stood by me through distance and divorce, through marriages and births. I plan to grow old with you in my life.
Yes, there were drugs in our school, teen pregnancies, and our years were marked by a few tragedies. I hope those who are no longer with us know that we still love you. It is 25 years later, and I still cry when I remember your birthday. I can't help but wonder who you might have been, who your kids would be now.
As we approach our twentieth reunion, I suspect we each secretly hope that will be a few '93 grads who have been wildly successful, just to show that a kid from Roy High can. I can think of a few who made it. But we're becoming less worried about all the time. We are growing at ease with who we are, and not feeling terribly insecure that we mostly grew up to be middle class like our folks, with a patch of green lawn, marigolds and petunias. We got a surprisingly good education in those 70s, river rock, public school walls. We had a community looking out for us.
Perhaps now as we approach 40, the question is not whether we are proud of Roy, but whether Roy will be proud of us.