Parenthood Part 6: In Loss, We Understand Worth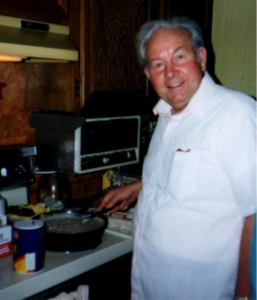 Submitted by admin on Sun, 01/01/2012 – 19:46
Vincent Van Gogh peered at the night sky through a small window inside an institution to which he was consigned, and he painted Starry Night.(1) For years he had wanted to paint the eve of Christ's birth but somehow could not get it right. Now here, where he could scarcely view it, the evening heavens took on an intensity he had not known before. It was as if in longing for what was just out of reach, he felt its full beauty. In scarcity and loss we learn how precious this life and its simple blessings are.
Four years ago last week, I lost my dad. We knew it was coming and so we drank in the moments that remained. When the day arrived it brought a peaceful, bittersweet time of remembering and also in knowing that nothing had been left unsaid, no important tasks undone. His life was complete through his children and somehow even more through his grandchildren. He left this existence as eager for the next adventure as when he left the womb, embracing death as the next phase and not an unnatural enemy. I think he sensed that on the other side, it is a celebration when one of God's children comes home and not a tragedy. I hope to be blessed with such peace when my day comes.
In the 32 years I had with my dad, he and my mom taught me so much, really all that I would need to navigate my way. So it came as a lovely final gift when, in his death I learned one final truth. That is, through loss we fully understand just how dear our loved ones are. We all intellectually know that death is a part of life. Viktor E. Frankel (author of Man's Search for Meaning) says the end of life is like the last movie frame in which we finally realize the whole story's meaning.
In this same way, we do not quite grasp how precious our loved ones are until we contemplate their lives through the gap they leave in us. In our grief and longing, the good times become sweeter and the hard times worth it. Their strengths teach us and their flaws blur like a soft-focus portrait. We are meant to lose the ones we love to fully comprehend their worth.
I miss him so much. I wish I could still ask his advice, hear his earthy language that is fading in clarity and that new generations will never replace. Oh what I would give to hear him singing in the kitchen while flipping hot cakes, just one more time.
It hurts, and yet I would not will it to sting less, because in that feeling I am reminded what he meant to me. I would never wish to diminish that. I embrace that empty space in my heart and let it remind me to hug my husband a little tighter, have lunch with my mom more often, and tell people how grateful I am for their friendship.
The time will come for every one of us to part, whether you go first or I do, it is my deepest desire that love between friends, family and even colleagues will fully bloom in the present. Then when death comes, our hearts can swell with both grief and memories, but never regret.
Footnote (1): Van Gogh: The Life, 11/03/11, Doug Fabrizio (interviewer), Gregory White Smith (author, Van Gogh: The Life), Radio West, (Podcast, http://www2.kuer.org/podcasting.html).