On Aunts and Aunties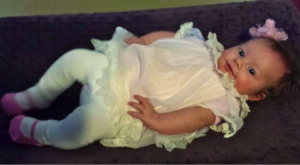 Submitted by admin on Sat, 02/01/2014 – 13:35
It has been a while since I have posted anything in my parenthood series; being pregnant and having a new baby just hasn't left time. Now that I have a daughter of my own I have a hundred fresh thoughts to write about. This morning as I put her in a pretty pink dress given when I was born, I felt so grateful for the women I call aunties. This in in honor of them. I snapped the photo above showing a dress sent by my mom's girlhood friend, Edna. Although not related by blood, she was one of my aunties.
The difference between an aunt and an auntie, you ask? And what have they to do with parenthood? Friends, allow me to b'splain an auntie's special role, distinct from and complimentary to mothers.
The label of auntie first came into my lexicon when my nephew Daniel started calling me this. What began as humor stuck. I was young and the word seemed more befitting a lady from a different era. Perhaps for this reason it caught on and I'd like to think eventually became a term of endearment among my nieces and nephews. Therein lies the difference. An aunt is simply the sister of your parent, perhaps also the mother of your cousins. She's a grownup and when the kids are in a back room causing trouble, she's in the living room talking and snacking. An auntie is in there with you. An auntie has tea parties and sleepovers. You know she adores you. She spoils you but also doesn't take any crap. She has a genuine interest in you, and she's someone you can talk to in a way you can't with your mother. She may or may not be related.
At least that's the kind of auntie I wanted to be. Truth is, I always got waaaay more out of the job than I ever put in. I've said many times that it takes such a small amount of effort to get so much back. Here's the selfish truth too. I wanted to be an auntie precisely because I wasn't a mother. I wanted to somehow matter. I knew being a parent was much harder, but maybe I could supplement their role and still make a difference. Now that I am a mom, I appreciate aunties precisely because I can't be one for my girl.
So this morning, I was thinking of all the aunties in my life. Edna, who gave my mom that gorgeous dress, was always dear to me. She lived in a big historic home in Reno and I loved everything about the place: the woodwork, the wrought iron fence and the fancy staircase. She may have been responsible for my early love of old homes. Whenever we visited, she showed us her doll collection, we had tea parties with dainty pastries, and girls-only shopping trips. She went out of her way to make it a special experience for me, and she hit the mark.
My aunt Arline was another auntie. Her daughter was my age and I cannot count the number of sleepovers at her house. She took us to do fun things, talked to me like I mattered, and most of all, she made me feel loved in her home. I never felt like the pain in the rear that I probably was. I was kind of an odd duck (okay still am) but felt like I belonged fine there. Great aunt Peggy was another. We visited her in California whenever we passed through and she always had something for me, including a lovely piece of jewelry that was hers when she was a girl. She taught me how an auntie can make a girl feel special.
There were also the mothers of friends. Stacie's mom Brenda comes to mind as someone who had a big impact. I remember entire summers at her house baking cinnamon rolls, playing games on the computer, and her talking with us, never down. She remains one of the sweetest, kindest people I have ever known.
When my daughter was born, so many women have volunteered their services in the auntie role, including my nieces. Funny how things come full circle. Truly this little girl has no concept of how loved she is, but someday she will. The outfits, handmade blankets and other gifts were not just for practicality–although they are all certainly useful. They are reminders that she will never be alone in this world. If it takes a village, she was born into a community of strong, compassionate, and fun women who will always have her back. I have a feeling someday she'll go through things that I saved for her–given by aunties at her birth and will realize just how lucky she is.