Be Interested, Not Interesting.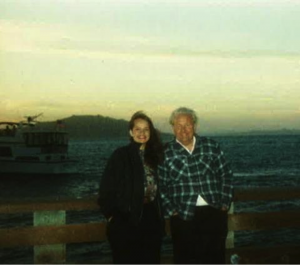 Submitted by admin on Mon, 02/18/2013 – 13:19
It's a good thing my husband and the guy in the aisle seat were dozing because I started writing this and soon had mascara running like an idiot.
I first wrote this on a plane to San Francisco–my dad's favorite city–last fall on what would have been his birthday. We made so many memories there, our camper parked on the wharf, mingling with a certain breed of San Fran hippie at the Whole Life Expos where we exhibited. We had some epic father-daughter talks on the end of the pier at dusk. The year before he died I stopped at his hospital room at the VA on my way to a conference in San Francisco. We spent a couple hours shooting the breeze and he told me he thought he wanted to have his defibrillator unplugged. Then when it was time it was time. Before I left he asked me to pour him a shot of caffeinated soda into a pill cup and he took a swig—his first taste of such a beverage in like 25 years—and toasted to life.
I know everyone loves their dad, but there was something else. Everyone loved MY dad. Why was that?
Yes he left quite a legacy with a big posterity and a bustling family business. He had an earthy sense of humor and found balance between high altitude dreams and street-level humility. Yes he was smart and unorthodox. But many folks have those qualities. What made him special to us?
Maybe it was simple. Everyone loved him because he loved everyone first. He believed a person would have more friends by being interested than interesting. And he was intensely interested in us, in what we had to say and in our dreams. He didn't so much light up a room as light up when YOU entered the room.
Is that the secret? To be loved–really loved–give it freely first. There is no guarantee we will not be hurt or disappointed, no guarantee it will be returned but that is missing the point. Real love is an unselfish act, sharing without motive for return, cherishing others regardless of their quirks and flaws. I watched how disagreements my parents may have had with others dissipated because they shined a brighter light of love in the foreground. Light is more powerful than the dark and love the most irresistible force of all.